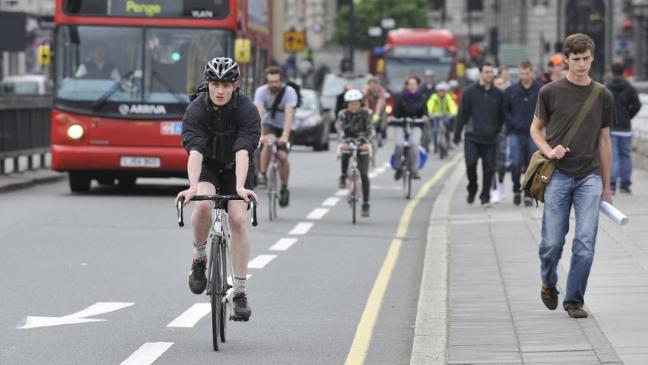 Did you know that within the Highway Code there is a section that consists of 23 rules that are specific to cyclists, and cycling? Have you ever read the Highway Code? Do you even know what The Highway Code is?
Honesty time… I haven't read it since studying for my driving test which was more than a few years ago. So I thought I'd review it, and bring you the important information for those of us who prefer two wheels over four.  The Highway Code is a set of information, advice, guides and mandatory rules for road users in the United Kingdom. Its objective is to promote road safety and applies to all road users including pedestrians, horse riders, motorcyclists and vehicle drivers, as well as cyclists.
The below is copied directly from The Highway Code which you can read in full here. Just an important word on the terminology used; MUST and MUST NOT is used where it is a legal requirement, and the specific law is referenced. SHOULD is used where it is guidance or a recommendation.
1. Overview (59 to 71)
59
Clothing. You should wear
a cycle helmet which conforms to current regulations, is the correct size and securely fastened
appropriate clothes for cycling. Avoid clothes which may get tangled in the chain, or in a wheel or may obscure your lights
light-coloured or fluorescent clothing which helps other road users to see you in daylight and poor light
reflective clothing and/or accessories (belt, arm or ankle bands) in the dark.
60
At night your cycle MUST have white front and red rear lights lit. It MUST also be fitted with a red rear reflector (and amber pedal reflectors, if manufactured after 1/10/85). White front reflectors and spoke reflectors will also help you to be seen. Flashing lights are permitted but it is recommended that cyclists who are riding in areas without street lighting use a steady front lamp.
Law RVLR regs 13, 18 & 24
61
Cycle Routes and Other Facilities. Use cycle routes, advanced stop lines, cycle boxes and toucan crossings unless at the time it is unsafe to do so. Use of these facilities is not compulsory and will depend on your experience and skills, but they can make your journey safer.
62
Cycle Tracks. These are normally located away from the road, but may occasionally be found alongside footpaths or pavements. Cyclists and pedestrians may be segregated or they may share the same space (unsegregated). When using segregated tracks you MUST keep to the side intended for cyclists as the pedestrian side remains a pavement or footpath. Take care when passing pedestrians, especially children, older or disabled people, and allow them plenty of room. Always be prepared to slow down and stop if necessary. Take care near road junctions as you may have difficulty seeing other road users, who might not notice you.
Law HA 1835 sect 72
63
Cycle Lanes. These are marked by a white line (which may be broken) along the carriageway (see Rule 140). Keep within the lane when practicable. When leaving a cycle lane check before pulling out that it is safe to do so and signal your intention clearly to other road users. Use of cycle lanes is not compulsory and will depend on your experience and skills, but they can make your journey safer.
64
You MUST NOT cycle on a pavement.
Laws HA 1835 sect 72 & R(S)A 1984, sect 129
65
Bus Lanes. Most bus lanes may be used by cyclists as indicated on signs. Watch out for people getting on or off a bus. Be very careful when overtaking a bus or leaving a bus lane as you will be entering a busier traffic flow. Do not pass between the kerb and a bus when it is at a stop.
66
You should
keep both hands on the handlebars except when signalling or changing gear
keep both feet on the pedals
never ride more than two abreast, and ride in single file on narrow or busy roads and when riding round bends
not ride close behind another vehicle
not carry anything which will affect your balance or may get tangled up with your wheels or chain
be considerate of other road users, particularly blind and partially sighted pedestrians. Let them know you are there when necessary, for example, by ringing your bell if you have one. It is recommended that a bell be fitted.
67
You should
look all around before moving away from the kerb, turning or manoeuvring, to make sure it is safe to do so. Give a clear signal to show other road users what you intend to do.
look well ahead for obstructions in the road, such as drains, pot-holes and parked vehicles so that you do not have to swerve suddenly to avoid them. Leave plenty of room when passing parked vehicles and watch out for doors being opened or pedestrians stepping into your path
be aware of traffic coming up behind you
take extra care near road humps, narrowings and other traffic calming features
take care when overtaking
68
You MUST NOT
carry a passenger unless your cycle has been built or adapted to carry one
hold onto a moving vehicle or trailer
ride in a dangerous, careless or inconsiderate manner
ride when under the influence of drink or drugs, including medicine.
Law RTA 1988 sects 24, 26, 28, 29 & 30 as amended by RTA 1991
69
You MUST obey all traffic signs and traffic light signals.
Laws RTA 1988 sect 36 & TSRGD reg 10(1)
70
When parking your cycle
find a conspicuous location where it can be seen by passers-by
use cycle stands or other cycle parking facilities wherever possible
do not leave it where it would cause an obstruction or hazard to other road users
secure it well so that it will not fall over and become an obstruction or hazard.
71
You MUST NOT cross the stop line when the traffic lights are red. Some junctions have an advanced stop line to enable you to wait and position yourself ahead of other traffic.
Laws RTA 1988 sect 36 & TSRGD regs 10 & 36(1)

2. Road junctions (72 to 75)
72
On the left. When approaching a junction on the left, watch out for vehicles turning in front of you, out of or into the side road. Just before you turn, check for undertaking cyclists or motorcyclists. Do not ride on the inside of vehicles signalling or slowing down to turn left.
73
Pay particular attention to long vehicles which need a lot of room to manoeuvre at corners. Be aware that drivers may not see you. They may have to move over to the right before turning left. Wait until they have completed the manoeuvre because the rear wheels come very close to the kerb while turning. Do not be tempted to ride in the space between them and the kerb.
74
On the right. If you are turning right, check the traffic to ensure it is safe, then signal and move to the centre of the road. Wait until there is a safe gap in the oncoming traffic and give a final look before completing the turn. It may be safer to wait on the left until there is a safe gap or to dismount and push your cycle across the road.
75
Dual carriageways. Remember that traffic on most dual carriageways moves quickly. When crossing wait for a safe gap and cross each carriageway in turn. Take extra care when crossing slip roads.

3. Roundabouts (76 to 78)
76
Full details about the correct procedure at roundabouts are contained in (see Rules 184 to 190). Roundabouts can be hazardous and should be approached with care.
77
You may feel safer walking your cycle round on the pavement or verge. If you decide to ride round keeping to the left-hand lane you should
be aware that drivers may not easily see you
take extra care when cycling across exits. You may need to signal right to show you are not leaving the roundabout
watch out for vehicles crossing your path to leave or join the roundabout.

78
Give plenty of room to long vehicles on the roundabout as they need more space to manoeuvre. Do not ride in the space they need to get round the roundabout. It may be safer to wait until they have cleared the roundabout.
4. Crossing the road (79 to 82)
79
Do not ride across equestrian crossings, as they are for horse riders only. Do not ride across a pelican, puffin or zebra crossing. Dismount and wheel your cycle across.
80
Toucan crossings. These are light-controlled crossings which allow cyclists and pedestrians to share crossing space and cross at the same time. They are push-button operated. Pedestrians and cyclists will see the green signal together. Cyclists are permitted to ride across.
81
Cycle-only crossings. Cycle tracks on opposite sides of the road may be linked by signalled crossings. You may ride across but you MUST NOT cross until the green cycle symbol is showing.
Law TSRGD regs 33(2) & 36(1)
82
Level crossings/Tramways. Take extra care when crossing the tracks. You should dismount at level crossings where a 'cyclist dismount' sign is displayed.
Annex 1 – You and your bicycle
Make sure that you feel confident of your ability to ride safely on the road. Be sure that
you choose the right size and type of cycle for comfort and safety
lights and reflectors are kept clean and in good working order
tyres are in good condition and inflated to the pressure shown on the tyre
gears are working correctly
the chain is properly adjusted and oiled
the saddle and handlebars are adjusted to the correct height.
It is recommended that you fit a bell to your cycle.
You MUST
ensure your brakes are efficient
at night, use lit front and rear lights and have a red rear reflector.
Laws PCUR regs 6 & 10 & RVLR reg 18
So there we have it… the sections of The Highway Code that apply to cycling and cyclists.  Here at The Canterbury Bike Project we are aware that cycle training can help both children and adults increase their confidence in bike control and hence their safety on the road, especially those adults returning to cycling. It is important to develop the skills needed to cycle safely on today's busy roads, or to be able to plan a route which takes you on dedicated cycle routes or roads with less traffic.
All cyclists should consider the benefits of undertaking cycle training. For information or if you have any questions, contact us…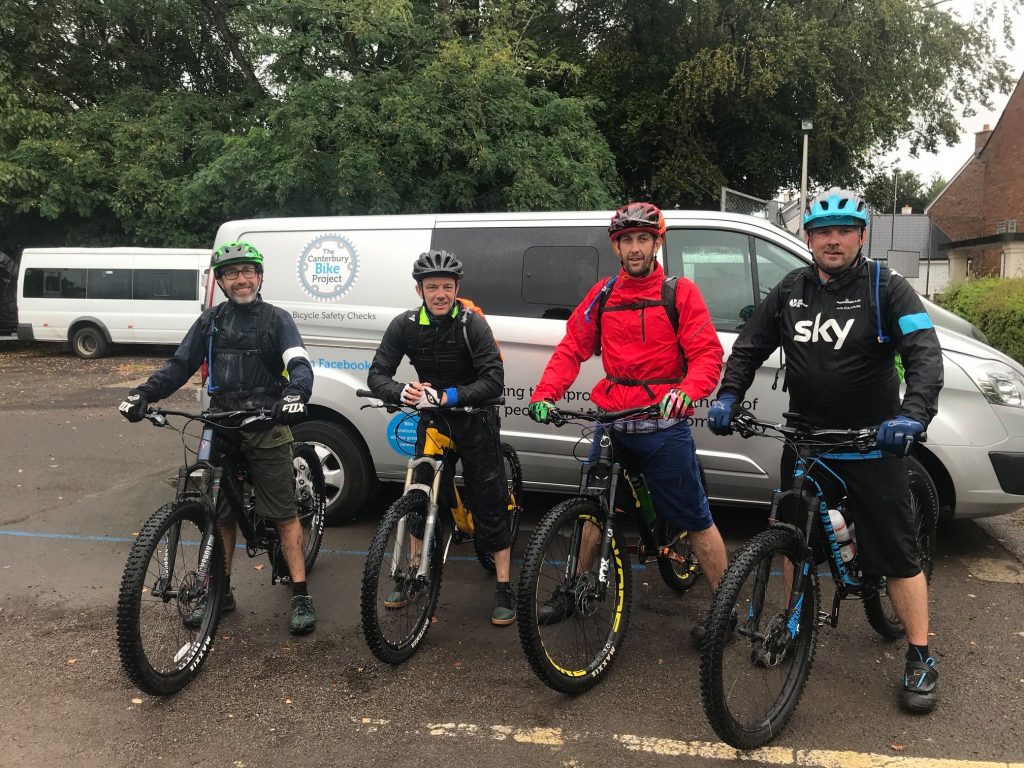 Like a bunch of school kids packed into the school bus heading away on a school trip, away from their parents for the first time, nervously excited of what the next two days would bring. That's how the male contingent of the Canterbury Bike Project team felt as they crossed the Severn bridge into Wales on route to an intensive two day training session with Windy of WyeMTB who would be preparing us for our British Cycling Ride Leadership Level 2 award.
To be able to engage more of the local community and support individuals in their riding development we as a team want to take small groups out on organised local rides. To do this professionally, safely, and with all the necessary insurances and approvals we needed to complete training, and assessment in line with British Cycling Ride Leadership courses. The Level 2 course gives any ride leader the skills to safely take a team of up to 8 riders out on a planned off-road semi remote route. That means MTB fun to you and I.
Arriving late at our hotel, we all couldn't sleep with excitement so kept the bar tender company until he closed the bar.  The following morning a healthy breakfast was had knowing we had quite a few miles of riding ahead of us.
With the nerves rising, we met Windy – nothing to do with the beer or the breakfast, but Dave Windebank from WyeMTB. Top bloke! We were soon chatting about bikes (obviously) and sharing war stories.  The morning consisted of a classroom session, cementing the feeling that we were kids back at school withnervous excitement.  The British Cycling Ride Leadership Award enables those qualified to lead rides in more remote environments and over longer and more challenging terrain. The award qualifies leaders to deliver guided bike rides safely for groups of intermediate and advanced level adults. Throughout the morning we covered topics such as planning and delivery of rides, leading techniques for effective group management, map reading and navigation, management of accidents and emergencies, equipment set-up, trailside repairs and core mountain bike techniques, decision making and advanced risk management.
Then there was the 'practical' element, which included a timed 'test' to see how quickly we could remove a wheel, remove the inner tube, swing it around our heads, and then re-assemble.  With Steve doing this activity many times daily at the bike project (replacing inner tubes, not swinging them round his head) he won, obviously.
After a spot of lunch, and yet more stories of the biking kind, and appreciation for the mechanical offerings to the biking gods that we had brought along for the weekend (our bikes…), we headed out for a 'quick' afternoon ride. To be fair to Windy it was a relatively short ride for the afternoon, but he threw some crazy climbs at us.  I for one had to dig deep, get into my zone, and pound away to keep the momentum up – mainly as my bike was not geared for such climbs.  Then there was the 'baby skulls' climb – large, wet, slippery cobbles on a climb that would have been a challenge with out them. Only the instructor, Windy, made the climb. Just a bit of showing us who's boss I think…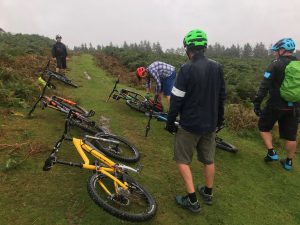 With day one over, we were set some homework. To plan the route and guidance notes for the following day, where we would take it in turn to lead a section of the ride.  Luckily for us the bar was warm and inviting. A couple beers in and the mind was lubricated well enough to quickly get the route planned.
The following morning we woke, had breakfast, and headed to the meeting point for day 2 of our training.  Let's revisit breakfast for a second.  The team decided to run a small fuelling experiment. Two of us went for the full-english fry up, whilst the other two of us took the continental (read healthy) route. The fry up was huge!! Two of everything. Certainly a lot of calories were piled in. The continental, complete with porridge, orange juice, and yoghurt was light on the stomach, but were there enough calories to carry us through the day?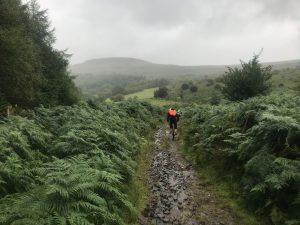 At the meeting point, we kitted up, readied the bikes and headed out on our longer ride of the weekend. This time The Canterbury Bike Project team were in control… mostly.  We took it in turns to lead the team through the Wye Valley along the route we had planned the previous night.  Surprisingly, all went well. We had opted not to use electronic GPS guidance and to rely on the lessons from the day before, and a good old fashioned paper map (although the paper was the special water proof kind).  Now, to give a little detail here, there is a number of procedures, and checklists that need a British Cycling ride leader needs to go through (albeit somewhat informal) before leading a group out on the ride. Then on the road, a continuous adaptive risk assessment is carried out by the ride leader to ensure the group is safe, the route remains suitable, and the return time remains achievable. Part of the planning of a route requires alternative routes to be planned in case the ride distance needs to be changed to suit the group. So to say all went well means everyone successfully led their section of the route and took on the guidance from Windy on how to improve the experience for our future customers. A good day, a good ride in awesome surroundings, and a good experience with Windy from WyeMtb.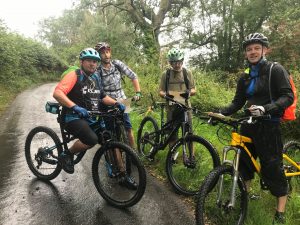 In the van on the way back to Canterbury we were all a little drained from the long weekend, but we also excited and motivated to complete our training, which was to include a number of planned and led rides over the coming months, complete with planning and risk assessment evidenced in our logbook on which we were to be assessed.  We were so motivated that we managed to squeeze a quick stop at the pub when back in Canterbury, just so we could continue planning the dates and rides that we needed to complete…
A huge thank you and a mighty recommendation to the team at WyeMtb for taking us through the British Cycling Ride Leadership course.  Established in 2010 by two passionate mountain bikers, WyeMtb's objectives are to educate, encourage, and enhance Mountain Bike participation in and around the Wye Valley, Forest of Deam, and South Wales, by offering expert mountain bike coaching and guided rides. They run some great courses in an enviable location. Definitely look them up…
So that was the training. What about the assessment? Keep an eye out for Part 2 coming soon where The Canterbury Bike Project team tackle examination day!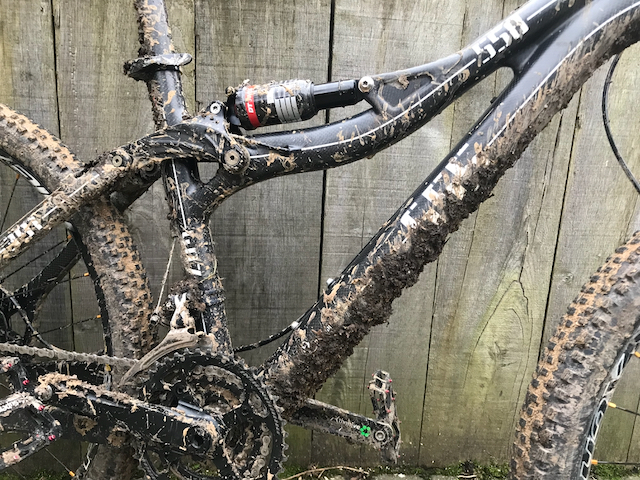 I'm going to talk about the very basics of looking after a bike.
We're not talking anything fancy here. No special knowledge or tools are needed. It's not something that needs to be taught and practiced…
I'll get straight to the point just to show you how basic we are talking.
Keep your bike clean. Not 'from the shop' clean, but wash most of the mud off it after use, and dry it before you put it away.
When not in use protect it from the weather. If you can, store your bike in a garage or shed. If you have to keep it outside in a garden put a tarpaulin over it to protect it.
Those two points will greatly increase the life of your bike, the parts on your bike, and reduce the need for repairs. Simple.
Why just these two points? Well to answer that we have to go into a little more detail.
Firstly, moving parts do not like dust and dirt. A chain for example should be clean and 'lightly' oiled on the rings only – the bits that engage with the cogs.  Oil will collect dust and dirt – fact. The more oil on the chain, the more dust and dirt it will soak up. The oil mixes with the dust and dirt to become a grinding paste. So if left alone for too long your chain and cogs (rear cassette and front chainrings) wear themselves away with every peddle stroke. 
Wipe down the chain with a cloth to remove excess oil and dirt, a little degreaser sprayed on the cloth can help (Never spray degreaser or oil directly towards the chain incase it gets on the braking surfaces). Then apply a little fresh oil to the middle of the chain and your chain will reward you with a longer life.  Similarly headset and bottom bracket bearings should be kept clean to reduce the chance of dirt getting in and accelerating the wear.  When we service a bike, we routinely remove, clean, grease, and reinstall the bottom bracket and headset bearings to save you the cost of replacement in the long run.
Then there's the mud. Mud holds water and takes a long time to dry out, and so when in contact with metal the moisture in the mud supports the formation of corrosion, rust typically, which isn't good whichever way you look at it. Similarly water penetration is bad! If it gets into your headset or bottom bracket it will emulsify the grease, which means the grease will stop protecting the bearings, and then they will corrode, and wear at a higher rate. Sticking with water ingress, if it gets in the frame, it will head south to the bottom bracket and pool around it. Until some unsuspecting mechanic breaks free the bottom bracket from the frame (usually with a lot of force due to the corrosion) and releases stagnant water that has been sitting in the frame for way too long!
Oh and there's tyres which if left out in the sun for extended periods (read months) will crack as the rubber 'dries out' and becomes brittle.  Cracked tyres are dangerous and need to be replaced.
So please, even if it's just so that the team at The Canterbury Bike Project and I don't get covered in stagnant water so much, keep your bike clean and protect it from the weather. If you really want to look after your bike, treat it to a service every 6 to 9 months.
If you've found this article useful please share y clicking the share icon to the right. Thank you!